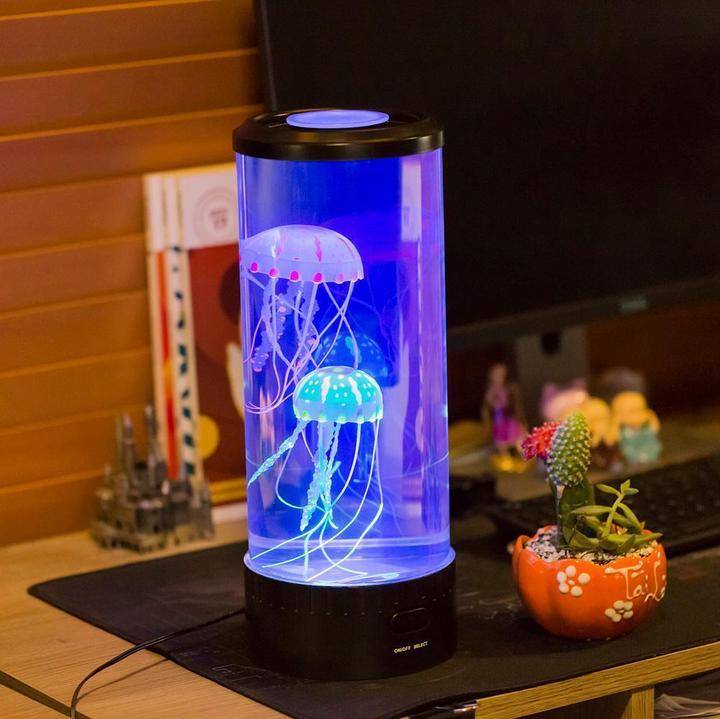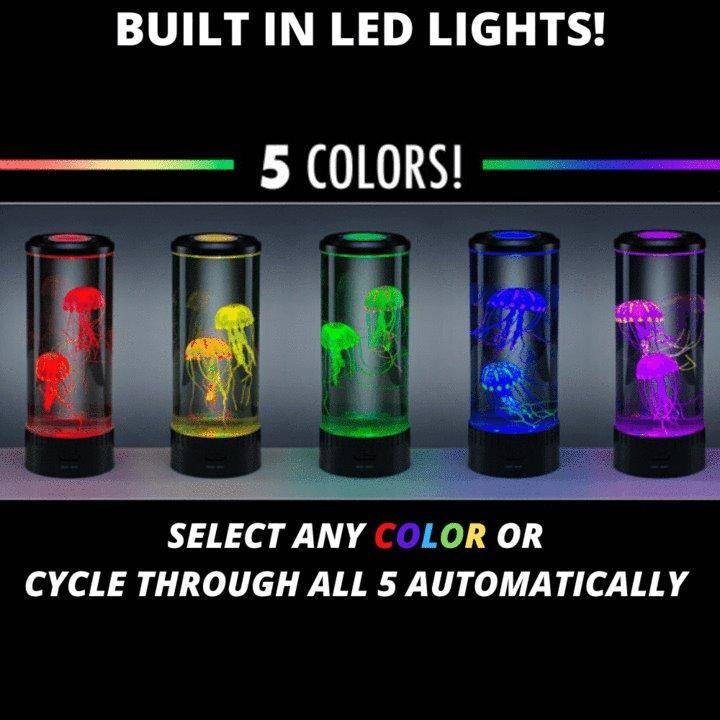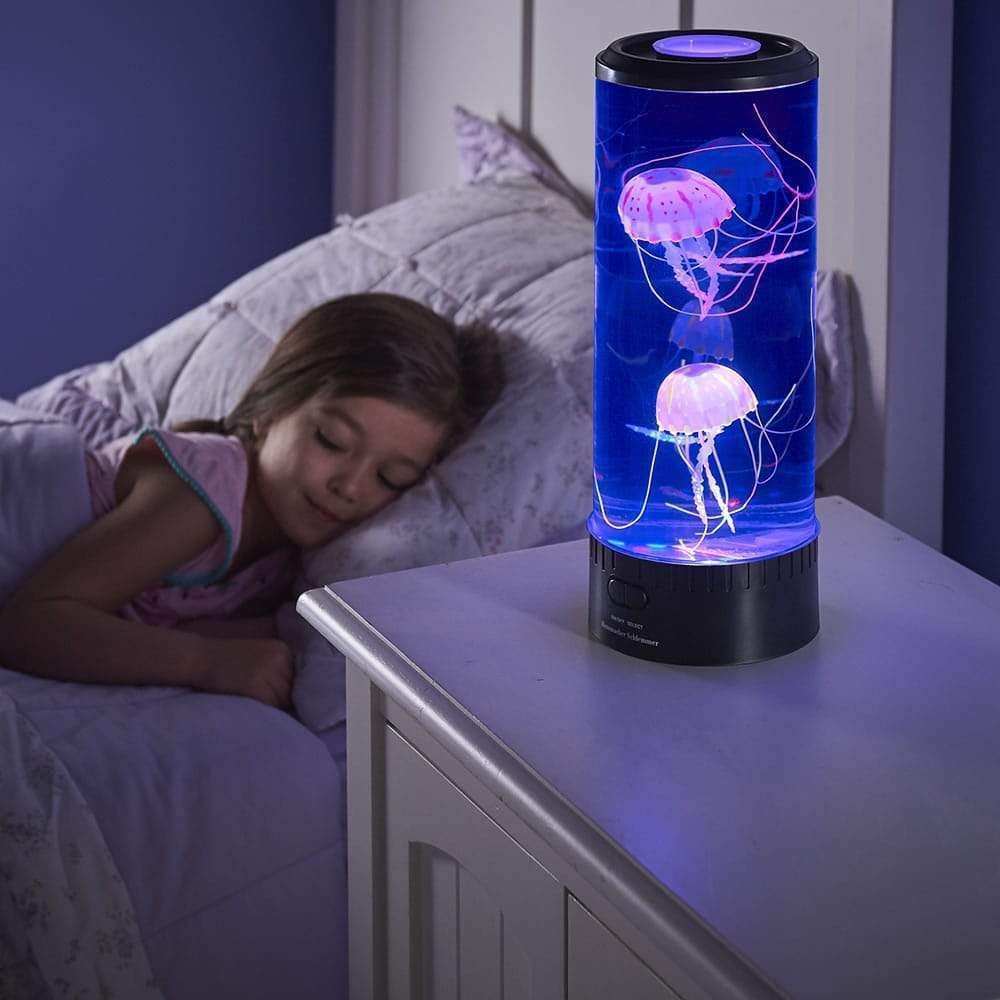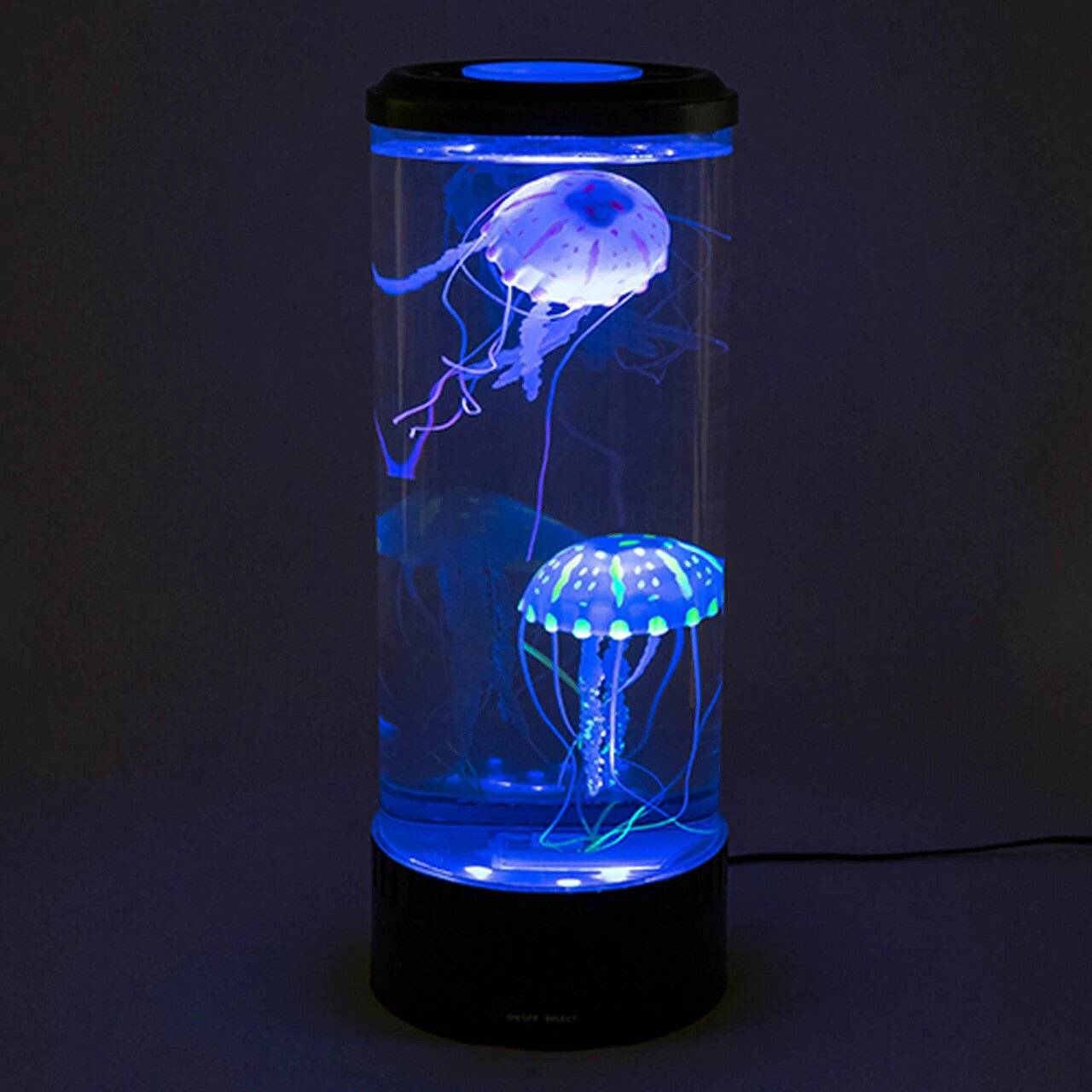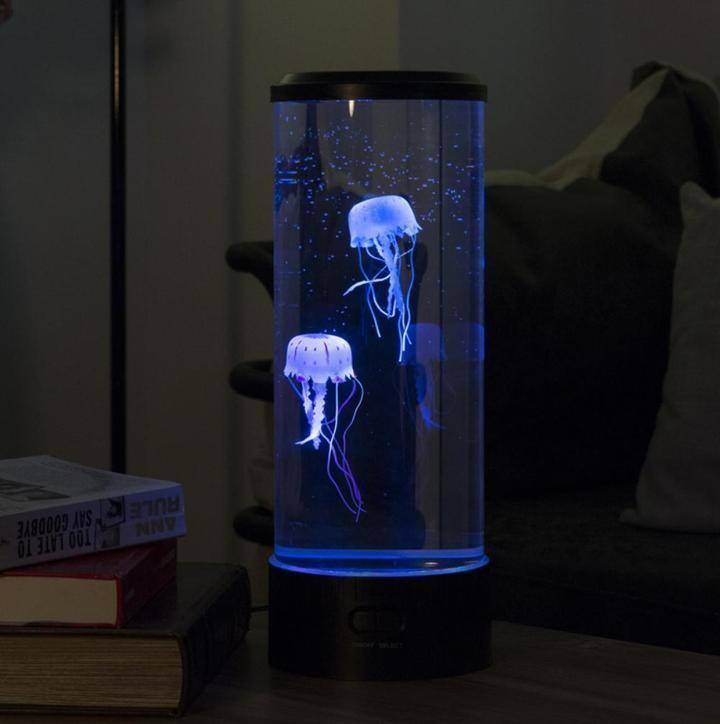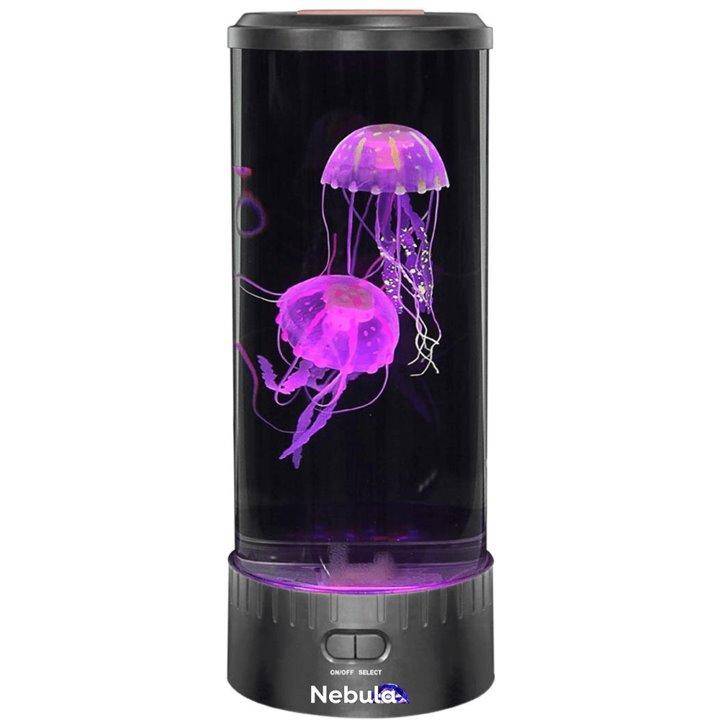 CAN SWITCH TO 5 COLORS LED LIGHTS

100% SATISFACTION GUARANTEE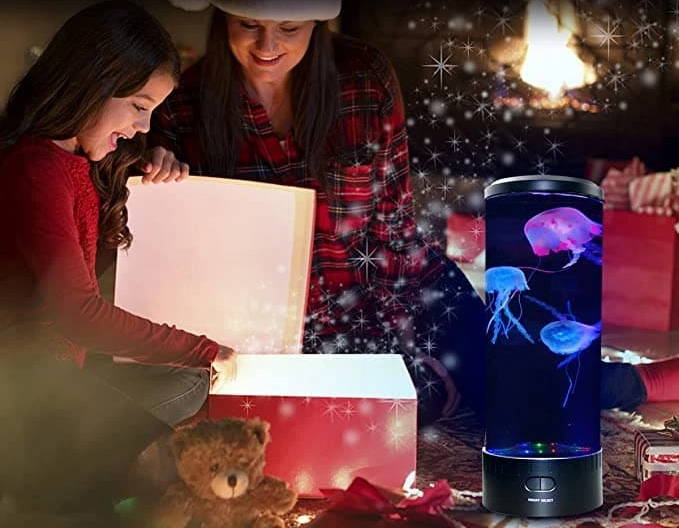 Watch jellyfish swim quietly, creating a beautiful ambiance. Lifelike jellyfish movements are so realistic you will question if they are real. The overall effect of changing lights is simply mesmerizing and fascinating.
GREAT SENSORY STIMULATION PRODUCT
The quiet movement of realistic lifelike Jellyfish in the tank with fascinating color changing lights creates a beautiful Tranquil, peaceful & soothing deep-sea ambiance which can help reduce stress & anxiety. Great for children, adults & seniors with special needs, including dementia ADHD & autism. May helps improve mood & well-being.
100% No-Risk Money Back Guarantee






FASCINATING COLOR CHANGING EFFECT: Fascinating Color-changing effects. With a quiet motor. The Lamp comes with 2 pcs lifelike synthetic Jellyfish with 18 LED lights(6pcs Red+6pcs Blue+6pcs Green); 5 color light changing effects. Please do not add any external items in it as well as they can cause the unit to malfunction.

IDEAL FOR HOME, OFFICE OR ANY INSTITUTION FOR PEOPLE WITH SPECIAL NEEDS: The Animated Jellyfish Lamp brings simulated marine life and colorful LED lighting to any room you place it in.

GREAT GIFT IDEA: Makes an excellent gift for anyone who loves sea life or simply wants to make a unique design statement. Great for Christmas, Holiday's, Parties, Home Offices, Bedroom or Living Rooms.
OPERATED BY ADAPTER OR BATTERIES: Operated by UL Adapter; ( US Plug adapter 100v-240v included. If you use in any other country you will need an adapter.) Most adapters are easily found at your local supermarket and cost less than $5. This model also supports 3 AA batteries if you do not wish to plug it in an outlet. Product Size: 10.4cm x 28cm, Black color base. Auto-off function after 4 hours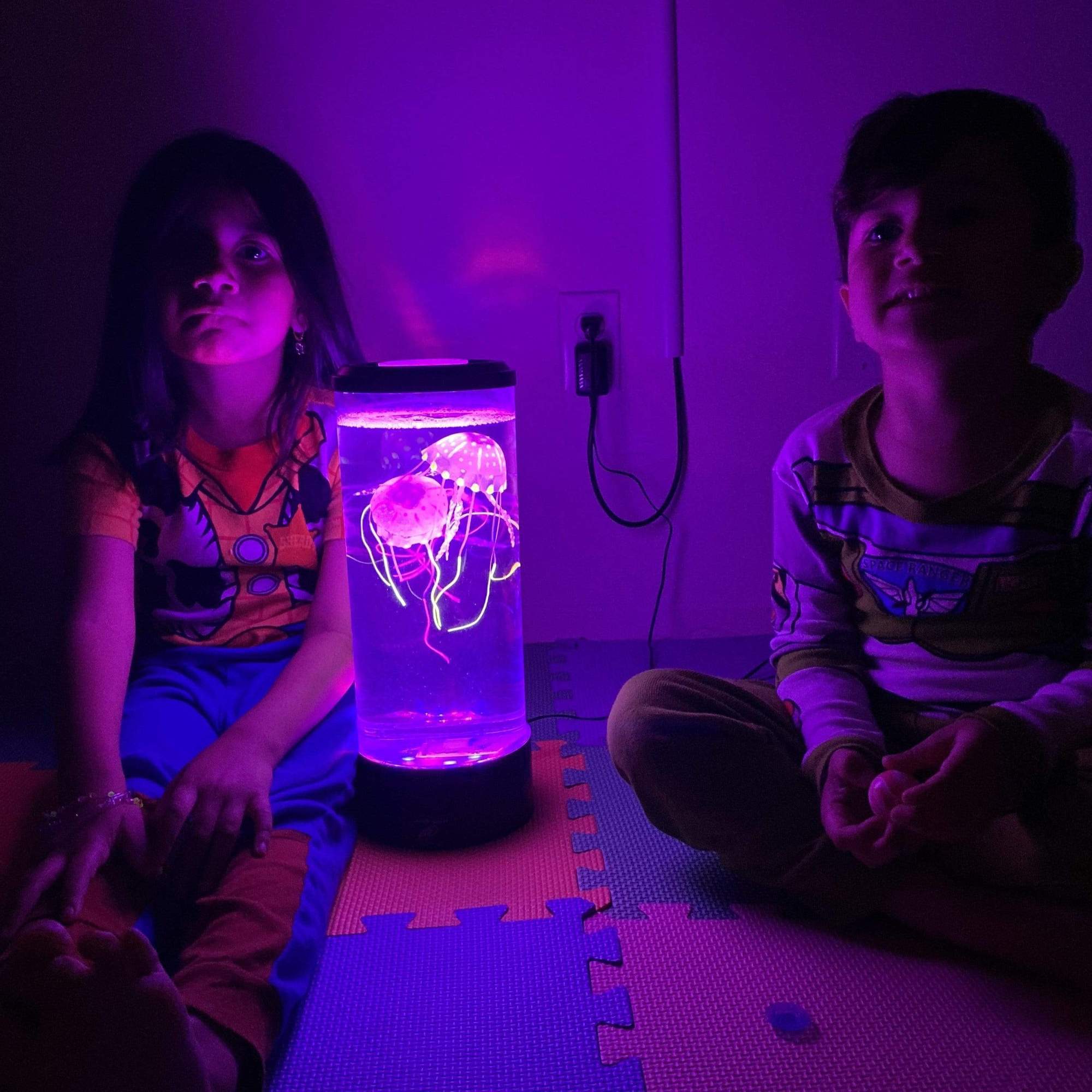 Choose your Bundle and save big on your order
FROM OUR SATISFIED CUSTOMERS

"I just got this today and I can't stop looking at it. These lovely jellyfish float around so serenely and the colors are bright and beautiful. They are surprisingly lifelike. The tank is very quiet and will not disturb you. You will not be disappointed in this purchase.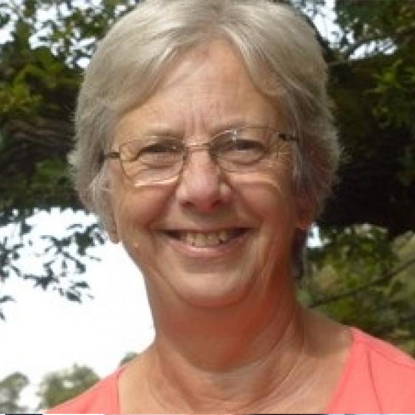 "I am using this in my den area and it is a wonderful addition to my decor !! Love the jellyfish , the colors and the way they float and move in the water !!"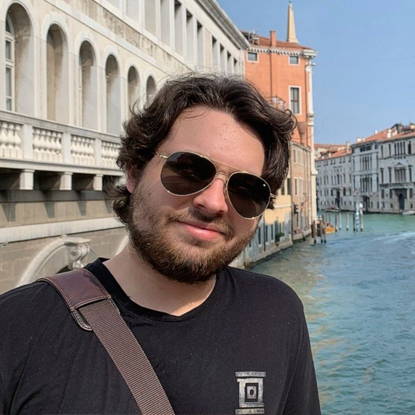 "I purchased this aquarium for my mother who has alzheimers and lives with me. Supposedly it stimulates the brain. The adults and grandchildren loved it too and enjoyed watching the jellyfish. Tap water doesn't work, must use distilled water.
Quite simply, we use LED lights, water and a motor that allows the silicone jellyfish to look almost life-like with their movements. The lamp's outer shell is Acrylic and not glass, so it will not shatter if dropped. The LED colors can be set to one color or put in a multi-color changing mode.
The lamp is not completely sealed, there is a small hole with a cap on top that allows you to fill or drain water at any time. You may use distilled (best clarity) or Tap water!
FREQUENTLY ASKED QUESTIONS
Can't find question? call us (818) 369-4401 or email us support@modernhomely.com
How do i get the hundreds of tiny bubbles out that get stuck under the jellyfish? They keep floating to top
Please take the jellyfish out and re put after cleaning head down first.
My jelly fish just float at the very top anyone else have this problem or am I doing something wrong?
When you put them in you have to make sure to submerge them head down until fully in the water. If you don't then air bubbles can get trapped and make them float. Also don't forget the drop of dish soap.
Does this jellyfish tank lamp use batteries?
Yes, the jellyfish lamp is battery operated (need 3 AAbatteries) and it also can be plugged in with USB.
Do you put real live jellyfish in the tank?
they are silicone but look real it comes with two big and three small jellyfish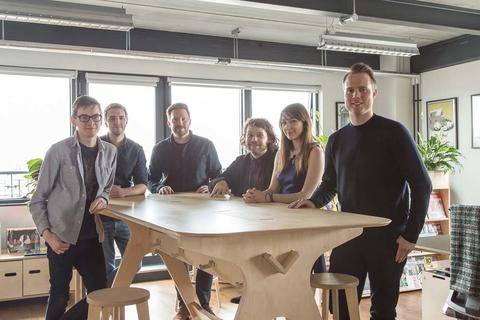 We are based out of Las Vegas, Nevada and strives to help making your home as modern as can be at an affordable prices.
Having a modern life isn't that easy but we make having a modern home easy.
We source all of our products from different suppliers around the world to find the latest technology and products for your home. Our direct relationships allow us to offer the lowest possible prices on all of our products.